Welcome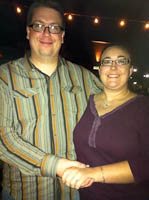 Craig Edward Condit
Anne Marie Kaiser
Hello everyone!
Welcome to our wedding website! We're happily married now, but will be keeping this site around to help us remember what a special time we had with friends and family.
Our wedding took place in Gold Canyon, AZ (just east of Phoenix) on September 29, 2012. Thank you to all of you who were able to celebrate with us!
Thanks for visiting!