Our Story
Craig: Wednesday, October 29, 2003. That was the night I first met Anne, and the night my journey towards the love of my life began. I was new to the Phoenix area, having just moved from Fargo, ND a few months earlier, and I didn't know very many people yet. I had just gotten involved with Scottsdale Bible Church and that night started attending a home Bible study (we called them Flocks).
The study had just started up again after a six-week break, and so there were a lot of new faces in the crowd (including mine). I doubt if Anne noticed me at all, but I definitely noticed her. I was completely enthralled with the beautiful, confident girl who was up front giving announcements and organizing an activity for the weekend (it was probably volleyball!). I decided right then that I wanted to get to know her better.
It still blows me away to think about the chain of events that led to that point. A random road trip to Phoenix in 2001. An almost unexplainable pull to come back here. A completely unexpected job opportunity from the last place I would have seen it coming from. A church recommendation from a pastor 2000 miles away. Getting connected at Crossroads right away, and being there at just the right time to get involved with the Flock. And finally, meeting Anne. Looking back, God's hand was evident in all of those things, leading me ultimately to meet the person I was designed to love.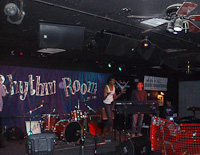 I pursued a friendship with her for eight months before working up the courage to ask her out, but one night in early June 2004, I finally did, and the next day, we had our first date, Tuesday, June 8, 2004 (which also happens to be my Mom's birthday -- the one and only one I have ever forgotten).
I wanted so badly to make a good impression that I had been planning the entire week before what we would do (which was more difficult then -- I didn't know the city very well at all). I don't recall where we went to eat, but I do remember that we were going to listen to some blues at the Rhythm Room, but we ended up going to a coffee shop in Mesa that had open mic night instead, because Anne forgot her ID at home. What she didn't know is that I had the coffee shop in mind as a backup plan in case something didn't work out, and it's a good thing!
We dated for a few months, and I fell hard and fast for Anne. Unfortunately for me, Anne took a little longer to fall for me (almost eight years longer in fact). We stayed close friends for a couple of years after that summer, but eventually lost touch.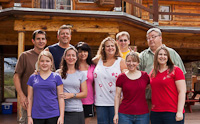 In the spring of 2011, I began attending Grace Community Church in Tempe, and got involved with a class that met there on Sunday mornings. July 4 weekend that year, a bunch of us from the class took a road trip to Pinetop-Lakeside where the church has a lodge/retreat center. Being somewhat of a photography buff, I had my camera along and took lots of pictures which I posted on Facebook after we got home.
I didn't know it at the time, but those pictures would prove to be very instrumental in Anne and I reconnecting. Several years before, Anne had attended Grace, gotten involved in the same class, and had even been to the lodge in Pinetop. So when she saw the pictures on Facebook, she was curious how I had gotten to know everyone, and shortly after Thansgiving, she decided to email me to see how I was doing.
This came as a complete surprise to me. We hadn't spoken in a long time, but had remained "Facebook friends" over the years. We emailed back and forth a few times, and I suggested we get together for coffee to catch up on old times. At this point, I wasn't interested in anything more than a friendship, but sensed that she might be looking for more. I figured that if I saw her in person, I would be able to tell.
We ended up going out to eat at Los Dos Molinos in Mesa (near where we both worked), and spent the next few hours talking and catching up. I didn't really get a good read on what Anne's interest level was, but found that I was really enjoying her company.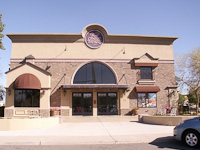 About a week later, I decided that I wanted to see where this might lead, and so on Tuesday, December 13, 2011 we had our second "first date". I thought I had set up the perfect date -- dinner out at a favorite restaurant, tickets to a musical across the street, and coffee afterwards. However, it didn't exactly go according to plan...
It was cold and rainy that night (not a common occurrence in the Valley of the Sun). This wouldn't have been a major concern, except that for some reason, the restaurant we went to had a special event going on, and there wasn't any seating available inside the restaurant. We ended up eating outside in the rain under a covered picnic table. When we couldn't stand the cold any longer, we headed for the theatre to get our seats and warm up. After the musical, we walked over to the coffee shop, only to find it had closed just a few minutes earlier. We ended up driving about 10 miles away to a Starbucks to get some hot coffee to warm up, and stayed there talking until they kicked us out at closing. All in all, a perfect evening. :)
The Tuesday before Christmas, I had driven out to Anne's house in Gold Canyon for the evening. On the way home, I was trying to figure out where things were leading between us. I wasn't coming up with any answers, but I decided that I wanted to find out where I stood before I flew back to Fargo for Christmas, so I emailed Anne after I got home and asked her if she'd like to go to lunch the next day (I was scheduled to fly out Friday).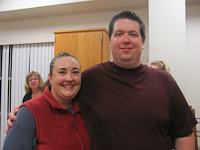 She agreed to meet me for lunch, and despite my best efforts, she wasn't about to tell me where I stood until I took the initiative and made my own intentions clear. I finally admitted that I wanted to pursue more than a friendship, and we agreed to start our courtship. Anne offered to drive me to the airport the next day, and I headed off to Fargo for a week, happy that our new relationship was blossoming.
What I didn't count on was how much I missed her while I was gone, and so the day after Christmas, I called Anne and asked if she would be interested in flying up to Fargo for the weekend. I think her first reaction was, "I can't afford a plane ticket." When I assured her that I would take care of that, she agreed that it would be fun and she would love to come. Deciding to press my luck, I asked if she was interested in flying up a few days sooner to attend a family reunion of my Mom's family in Minneapolis. She agreed to that as well, and three days later, flew north and met about forty of my closest relatives, and handled it all with grace. We spent the next few days in Fargo, where I showed her all of my old stomping grounds. She even got the "Minnesota" experience of ice fishing!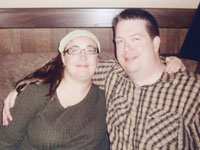 The next few months flew by very quickly, and we both found that we couldn't get enough of each other. We had some memorable times on our birthdays (both in February, with Anne's on Valentine's Day). Anne even got to be a part of my baptism on February 12.
Throughout all of this, we have clearly seen God's hand at work in our lives and our relationship, preparing us for the life He has in store for us together. We can't wait to see how He will lead next!